A few of my articles featured in Appleseeds magazine
(now ASK Magazine, published by Cricket), a social studies magazine for ages 8–11.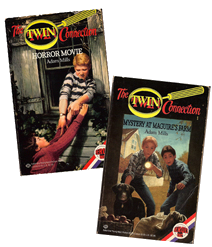 Oldies but Goodies. These titles were the first two books I wrote. They were published as part of a young adult mystery series that I helped to create when I worked as an editor for a book packager.
All the books in the Twin Connection series were published under the pen name, Adam Mills.
I'm currently working on a young adult thriller (see below).
One of the articles I wrote for the SCBWI Bulletin
Family is destiny, or is it?
Set in the high-tech, uber-wealthy world of Silicon Valley, Fault Lines is a YA psychological thriller narrated in three points of view by:
17-year-old Eliza Rhodes, who's angry and self-destructive, after being emotionally abandoned by the father she loves;
17-year-old Sam Morgan, a gifted photographer, who's had to sacrifice his dreams—and his feelings for Eliza—to take care of his single mother and siblings;
19-year-old Adam Smith, a brilliant but psychotic programmer suffering from PTSD, who yearns to find acceptance and a family where he can belong.
When Eliza saves the life of a child injured during a terrorist attack at a race, the media hails her as a hero. Adam sees her on the news and is convinced she's Ariel, the sister he lost in a tragic accident years ago. He stalks and eventually kidnaps Eliza, holding her captive in his basement while the world searches for her in vain.
In her struggle to survive, Eliza finds courage and a strength she didn't realize she had. She even develops empathy for her captor and the trauma he's endured, gaining insights into her own troubled family after hearing about his. But Adam has a chilling secret, and the bond between them is fragile. Can Eliza convince him to let her go before he succumbs to the dark memories that haunt him? Her only hope may be to persuade him that while they can't change the past, they still have the power to shape the future.
Meanwhile, Sam's been searching for Eliza, and his sleuthing pays off when he finds a crucial clue to her disappearance. He'll stop at nothing to rescue the girl he loves, but when he finally reaches her, disaster strikes. Now, Adam is angry and he's coming for them. Can they find a way to save each other before their time runs out?
Trust your heart, not your brain, to see the truth.
When 11-year-old Lucy is sent to her uncle's farm in California for the summer while her father takes a job on an oil rig, they're both still grieving her beloved mother's death. But the farm is no safe haven. Cruelly treated by her aunt, Mara, and her nasty son, Ralph, Lucy feels like a prisoner and desperately misses her dad.
When a beautiful husky appears on the farm that only Lucy can see and hear, she gains an otherworldly companion who gives her comfort and courage. When she learns that a young girl who died on the farm years ago had a devoted husky named Blaze, she realizes her dog just might be a ghost that's searching for something.
The bond between girl and dog grows as Blaze leads Lucy to her first real friend, Rory, a boy with a gift for connecting with animals.  As they work to solve the mystery of Blaze, they uncover evidence that Mara is conducting illegal activities on the farm. But before Lucy can contact her dad about her discovery, she receives word that there's been an accident on the oil rig. Now she's faced with the most terrifying threat of all—that her beloved father may never come home.